Een half jaar geleden werd ik door Mieke en Katrien van de Kon.Harmonie St.Martinus Opgrimbie – waar ik 11 jaar dirigent was geweest – gevraagd of ik hun huwelijksmis wi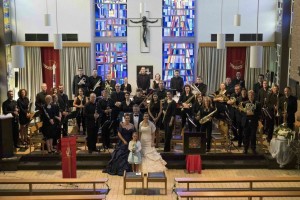 lde dirigeren. Een eervolle taak, waarover ik geen enkele seconde hoefde na te denken. Op 14 augustus werd één repetitie voorzien met een Ad Hoc Orkest bestaande uit een kleine 40-tal muzikanten afkomstig van uiteraard de KHSM zelf, aangevuld met collega's van Mieke uit de professionele circuit, waaronder het Nationaal Orkest van België, de Vlaamse Filharmonie Antwerpen, de Vlaamse Opera, het Rotterdams Philharmonisch Orkest, Brassband Willebroek en niet te vergeten de befaamde Belgische Gidsen.
Natuurlijk hadden de dames goed nagedacht over wat zij tijdens deze dienst wilden horen :  Olympic Fanfare and Theme van John Williams, het langzame gedeelte uit Tormenta del Desierto van Ferrer Ferran, La Esperanza uit Oscar for Amnesty van Dirk Brossé, Flowerdale uit Hymn of the Highlands van Philip Sparke met als solist Jeroen Corneillie , es cornettist van Brassband Willebroek en als spetterende uitsmijter Folk Festival van Dmitri Shostakovich (arr.Steven Walker).
Op zaterdag 16 augustus was het zover : het werd een fenomenale uitvoering dat stond als een huis met een subliem solerende Jeroen Corneillie op Eb cornet in Flowerdale.
Was in zijn algeheel een bijzonder aangrijpende uitvoering en de aanwezigen waren na ieder werk zichtbaar geroerd.. De muziek ging tot op het bot… Kippenvel gewoon!
Zelden heb ik in zo'n korte tijd zulke hoogwaardige en diepgaande muziek mogen neerzetten. Topchemie met de muzikanten!  Het was puur genieten!

Olympic Fanfare and Theme    ( John Williams )
La Esperanza uit Oscar for Amnesty ( Dirk Brossé )
Tormenta del Desierto, part 2 ( Ferrer Ferran )
Flowerdale uit Hymn of the Highlands ( Philip Sparke ) 
Folk Festival ( Dmitri Shostakovich, arr.Steven Walker )